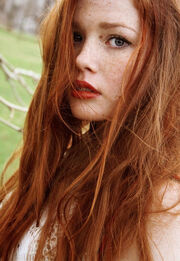 The second Eldest Child of the Stiles family---the second richest family in Ravencrest. Has three brothers, Damien and two as of yet named ones.
The Stiles are the WereCougars of Ravencrest, though there was some confusion because of Damien. He's actually Dana's half-brother, his last name being Cross.
Dana is the girl that Trevor Locke has a crush on. She's beautiful and smart. She works at the local theater. Tracy was crushed when she found out Dana was a lesbian, she was even more crushed when she realized she was no longer attracted to girls.
Dana's was in a relationship with Clara Saunders but the two broke up in Season of the Witch.
Due to the death of her father Vernon at the end of For The Fairest, Dana has taken the Stiles' seat on the Elder Were Council, making her the youngest member.