Tracy's Diary
A red leather bound diary she found on her bed at the end of For The Fairest.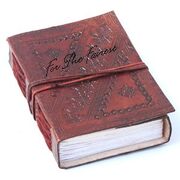 It has For The Fairest on the cover in fancy script and a letter written to her from her long dead mother. The first line of the letter addresses her as "My Dearest Daughter".
The diary has blank pages, meant for her to fill in at a later date.
Tracy starts each of her new diary entries with the phrase "Dear Mom" and ends them with "Your Dearest Daughter".