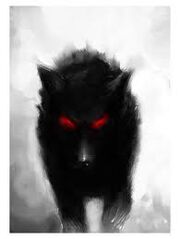 In Norse mythology he was the Guardian of the Underworld, servant to Hel.
In The DRU he is actually one of Twelve Demons. He appears as a large Wolf-like Beast that can stand on its hind legs. He has glowing red eyes.
In Killer Queen: Howl of the Demon Wolf, Suzanne encounters him in 1954 while investigating a series of supposed serial killings. The two of them fight whereupon he gives her a "bogus story" about Hel and the Gods right before she seemingly defeats him.
Garmr is a Demon often associated with pain and destruction.