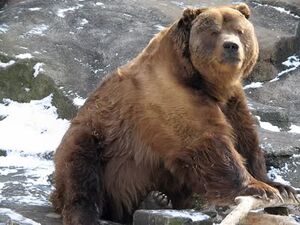 The Kincades
The Kincade family is one of the most influential and powerful familes in Skogshaven. They own a number of buinesses including one of the local newspapers. Greg Kincade was once the mayor of the town.
The Kincades are the Bears of Skogshaven. Not native to Skogshaven originally, their bear form is that of the Kodiak.
Cousins to the Kincades--The Cordays --live in Ravencrest.
Family Members seen so far:
Richard Kincade -

P

atriarch of the Kincades

Ella (Delilah) Kincade - wife of Richard

Charlie Kincade - son of Richard and Ella

Lori Kincade - wife of Charlie

Michael Kincade - son and oldest child of Lori and Charlie

Emma Kincade - daughter of Lori and Charile

Olivia Kincade - daughter of Lori and Charlie

Jacob Kincade - son of Lori and Charlie

William Kincade - son of Richard and Ella

Amy Kincade - wife of WIlliam

Andrew Kincade - son of William and Amy, goes to Ravencrest University

Tina (tornado) Kincade - daughter of William and Amy

Greg Kincade - Richard's brother

Stephanie - wife of Greg

Malcomb (Mal) Kincade - Greg Kincade's oldest son

Stephen Kincade - son of Greg and Stephanie

Brandon Kincade - It has not been mentioned who his parents are but probably William and Amy