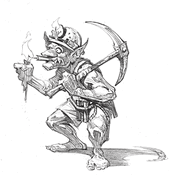 Knocker:
The Knocker is a Fae creature about two or three feet tall and grizzled, but not misshapen, they live beneath the ground. Here they wear tiny versions of standard miner's garb and when not mining for magical metals, commit random mischief, such as stealing miners' unattended tools and food.
Their name comes from the knocking on the mine walls that happens just before cave-ins – actually the creaking of earth and timbers before giving way. To some of the miners, the knockers were malevolent spirits and the knocking was the sound of them hammering at walls and supports to cause the cave-in. To others, who saw them as essentially well-meaning practical jokers, the knocking was their way of warning the miners that a life threatening collapse was imminent.
According to some, the Knockers are helpful warning the miners of impending danger. To give thanks for the warnings, and to avoid future peril, the miners cast the last bite of their tasty pasties into the mines for the Knockers.