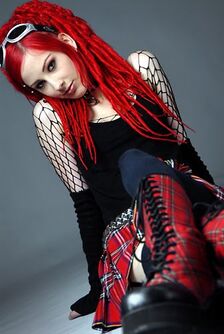 Scarlet is the only daughter of Grace DeWitt---the Inquisitor of the Ravencrest Coven.
She's a freshman at Ravencrest University and seems to know everything about everyone. In Season of the Witch, Mary consults her when she's trying to prove that Sophie is not in fact a student at the college.
Mary considers her a role model.
Scarlet is expected to take over her mother's Inquisitor job after her mother's death at the end of Season of the Witch. In A Tale of Two Sirens, Scarlet briefly appears as the Inquisitor---having been rushed into her mother's position rather quickly. The events of that story having taken place days after her mother's untimely demise.At the end of Season of the Witch, Scarlet is present to question Kelly about the incident at The Pit.
Scarlet is the lead Guitarist in an all girl rock band called The Poison Tongues.