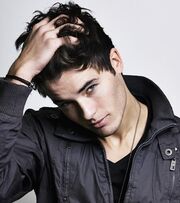 Seth is a
Knight of the Sacred Sword
, first introduced in Redemption. Seth is a little above six feet tall and prefers to stay clean shaven.
General History
Edit
Seth didn't remember his last name by the time that the Knights rescued him from the Order of the Sacred Heart. Because of this he took upon himself the name of sword, in latin of course.
Seth was the only Knight to be inducted into the Order in mid-air while flying from the United States to the United Kindgom. Some of the other Knights question his status because of this.
Seth is a direct descendant of Saint George
Seth became an orphan at the age of 5 when his family's home caught fire.  It is believed that his sister Hannah died in the fire.  Seth survived the fire because Sir Kevin of the OSS rescued him.  It is not known at this time how Seth ended up in the Order of the Sacred Heart after he was rescued by the OSS.
Personal Life
Edit
His relationship with Lauren Felice Hauptman is complicated by the fact that he is a Norm, and she is a Were. Add to that the almost ingrained distrust of the Order propogated by the Sacred Heart and you have a recipe for conflict that neither would do without.