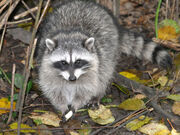 One of the Lesser Were animals.
Currently, the only known Were Raccoon is Amanda. It currently appears as if her natural form is that of a Raccoon who turns human.
Were Raccoons are an endangered Were species.
Abilities
Edit
So far it has been shown that Were Raccoons have a heightened sense of smell.